There's a new pub - By Kevin Johnson
Thursday 15 November 2018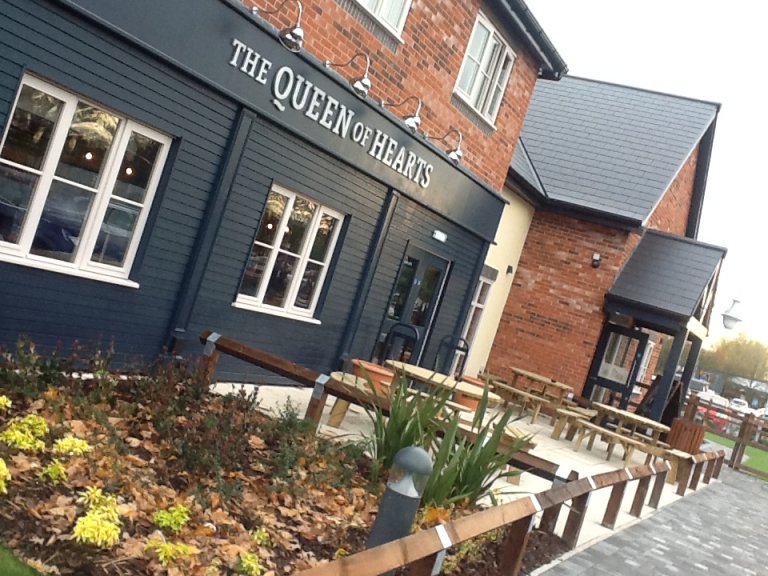 Queen of Hearts
In times when pubs are closing at a rate of 18 per week it is astonishing that new ones are not just opening, but they are being purpose built … in Runcorn.
The Queen of Hearts is built on the site of the old Halton Arms and opened in late October 2018. It is part of Marton's Heritage estate and is the first new build under that branding. It seeks to provide a socialising space serving the local community offering a wide selection of drinks and traditional pub food. The building offers three distinct areas, formal restaurant area, a less formal bar area and a reception (non-dining) area. It is run by attentive staff with friendly service and value for money.
When I went to survey the pub, I was met by the site managers Michelle and Barry, who are both very clearly excited by this new venture and have some great ideas which will be implemented in the coming months. In terms of cask ale, there are 4 regular house beers (Wainwright, Pedigree, Hobgoblin and Marson's EPA). When the demand for real ale increases, it is expected that a further two beers will be available, largely selected based on customer requests / recommendations. They are really looking forward to engaging with the local CAMRA branch.
Their plans for entertainment are still being formulated: they have a Sunday evening quiz, in which using your mobile phone is not considered to be cheating, indeed it is encouraged. I did not quite get that bit, but I guess I'll have to go and do the quiz to find out how it works! There is a well provisioned dart board in the bar area with 3 nearby large TV screens. Michelle said that she was looking forward to establishing a darts team for the pub, along with a dominoes 'school' and provisions for the playing of card games.
There is a massive bar giving plenty of room to get served, whilst the dining area has a few nooks and crannies creating a sense of multiple eating areas. The place boats an open pizza kitchen. See Queen of Hearts on WhatPub for full details of their opening hours and deals … thinking of which CAMRA members get 10% discount on real ale. For the latest news on what's happening there follow them on FaceBook