Beer news from Halton - by Alan Haselden
Sunday 6 July 2014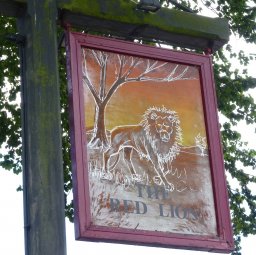 On the Sunday afternoon of 6 July 2014, my brother-in-law and I completed a nine mile rural pub ramble along the eastern fringes of Halton Borough beginning and ending at Runcorn East rail station. Heading north along the Bridgewater Canal towpath and passing Daresbury laboratory's iconic white tower, we reached Moore's Red Lion in under an hour. Smartly coordinated, traditional-looking and replete with ornaments, paintings and old movie posters, it is a food-led establishment comprising several areas - one including a pool table - and it is committed to serving serve at least two cask ales. Well's 'Bombardier' (4.1%) and Theakston's 'Black Bull Bitter' (3.9%) were available on our visit and we each chose the latter, which was on good form.
Onward up Hobb Lane (and straying briefly into Warrington Borough), we crossed the A56 and connected with footpaths traversing the rolling fields to the back of Daresbury's All Saints church, famous for its stained glass windows depicting Lewis Carroll's Alice in Wonderland characters.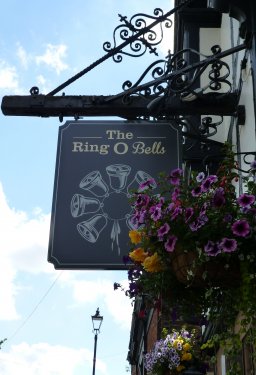 Across the road from All Saints church is the Cask Marque-accredited Ring O'Bells, which has undergone tremendous improvement for the better since new managment took control last year. Mainly a restaurant, there is a bar area as well as exterior seating out front and back should the weather be fair. Moreover, it maintains five local cask ales at all times, which I have always found in excellent condition and thus statistically it is Halton's leading "LocAle" hostelry. Weetwood's 'Mad Hatter' (3.9%) and Frodsham's 'Devil's Garden' (3.9%), 'Buzzin' (4.3%), 'Danny' (4%) and 'Flaxen Jade' (3.7%) graced us on our visit and my brother went for the malty yet sweet, flowery 'Mad Hatter' and I chose the deep red ale, malty 'Devil's Garden', which has hints of forest fruit. Both were absolutely delicious and on top form. Staff were friendly and hospitable and while the ale prices might be a little steep for this region, the Ring O'Bells certainly deserves support from ale enthusiasts both local and afar.
Heading south from Daresbury, the way-marked 'Lewis Carroll Walk' trail guided us through Daresbury Delph (offering marvellous views towards Frodsham Hill and Helsby Crag), Newtonbank Farm and the M56 pedestrian subway towards Preston-on-the-Hill village, from where we continued along a quiet lane and footpath to the Trent and Mersey Canal, which leads straight to Dutton's Tunnel Top. The change of landlord earlier this year has lead to a refurbishment that has created a more spacious and open feel, perhaps less cosy.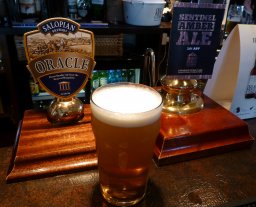 Most importantly, Tunnel Top continues to serve up to three cask ales in addition to low-priced, home-cooked meals. Weetwood's 'Best Bitter' selling at a frugal £2.15 per pint had just emptied upon our arrival; the remaining ales were Salopian's 'Oracle' (4%) and Big Shed's 'Sentinel' (3.8%). The 'Salopian' is a golden, hoppy ale and each of us agreed it had the edge over the rather thinly-flavoured, amber-coloured 'Sentinel', which, judging from the cloudy appearance, looked like it was an unfined ale.
Overall, it was a fine, sunny, summer's day out for the both of us and we chatted with some affable locals along the way. Upon reflection, when considering these three cask ale pubs on Halton's rustic edges alongside the many others in urbanised Runcorn, Weston, Widnes and Hale, it's a plausible assertion that this modestly-sized borough that occupies barely more than 3% of the county's area, punches well above its weight for broad-ranging quality, cask ale outlets. Furthermore, four of Halton's pubs are listed in CAMRA's 2014 Good Beer Guide, so do give Halton a visit!