Beer news from Kelsall, Willington and Chester - by Alan Haselden
Saturday 21 June 2014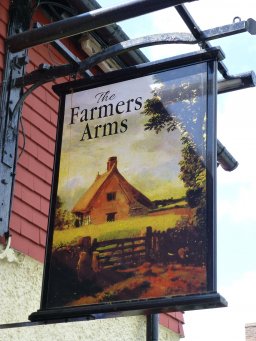 On the summer solstice, my sister, niece, brother-in-law and I set off mid-morning on an 18-mile hike from Frodsham rail station to Chester rail station via part of the way-marked Sandstone Trail, Kelsall, Tarvin and most of the way-marked Baker Way. Inevitably we visited several of the county's finest cask ale pubs.
The first, unfortunately brief, port of call was Kelsall's Farmer's Arms, where we stopped for a half-pint round of Weetwood's 4.5% 'Old Dog', a classic bitter in prime form. 'Best Bitter' (3.8%) and 'Cheshire Cat' (4%). There were other Weetwoods available in addition to a non-local guest ale with a World Cup themed name. Clean, smart, traditional yet open plan, there are three areas - one for dining, another for lounging and smaller area for playing pool.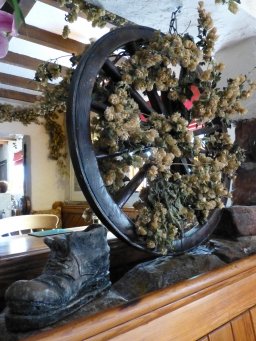 Continuing with the hike up the lane and along a narrow, descending footpath track - presenting terrific views of Cheshire's sandstone ridge as it snakes to the south with the Welsh hills in the distance to the west - we reached Willington's Boot Inn, where a longer stop was planned for lunch.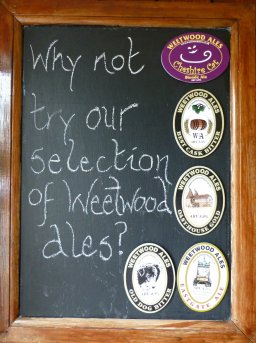 Four Weetwood ales were served here: 'Old Dog', 'Best Bitter', 'Cheshire Cat' alongside the rare 'Oasthouse Gold' (5%). On the culinary front, the meals ordered were Steak pie (pastry crust only), peas and chips; Teriyaki salmon fillet with potatoes and asparagus and a spiced chicken dish served with couscous and mixed vegetables. The food was of excellent quality, made with fresh ingredients and tasted heavenly. The only contention was the salmon dish's meagre portion size, which, upon polite request, was supplemented, by generous service staff at no extra charge, with an additional bowl of potatoes. Most importantly, the 'Oasthouse Gold', 'Best Bitter' and 'Old Dog' ales here were faultless.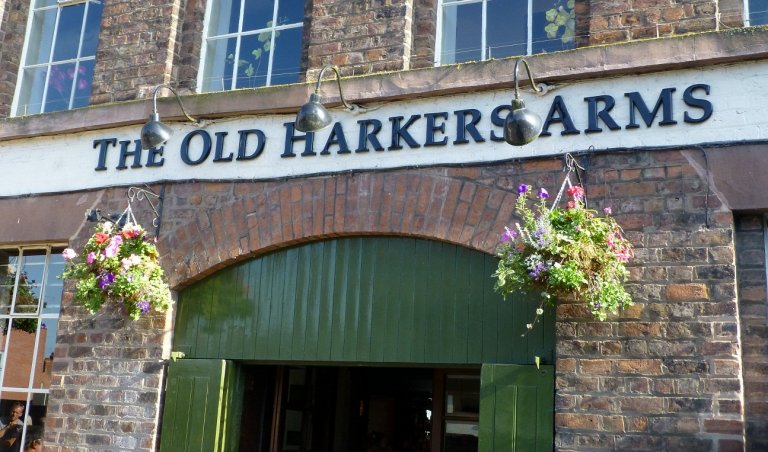 Proceeding west towards Chester, we joined the easy-going Baker Way at Tarvin passing Oscroft village beforehand (home of the Weetwood Brewery) and ambled along footpaths over fields and quiet country lanes. The final three miles followed the Shropshire Union Canal towpath and we reached Chester city by 6pm, The Old Harker's Arms in particular.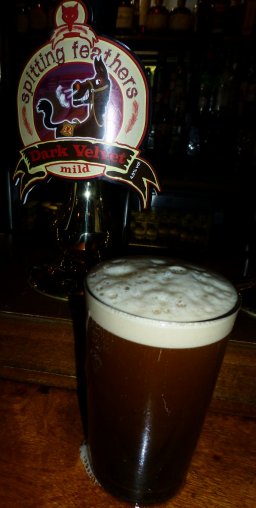 Some of us enjoyed a sneaky, swift half pint of Spitting Feathers' 4% 'Dark Velvet' - a moreish sweet black mild - at the Harkers while waiting for stragglers. Incidently, the pub was serving eight cask ales including another local one from Congleton's Beartown as well as their own Brunning and Price pub company bitter.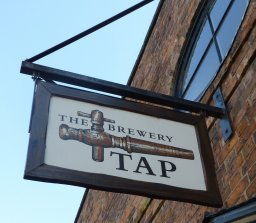 Up and onward along the city wall, passing the Cathedral and the Eastgate clock, we eventually arrived at our final destination - The Brewery Tap. Given the glorious evening summer sun rays shining through its arched windows and illuminating the lofty, mediaeval interior of this former Jacobean Hall, it was surprising the Tap wasn't heaving with customers as it usually can be. But to our advantage we got prompt service.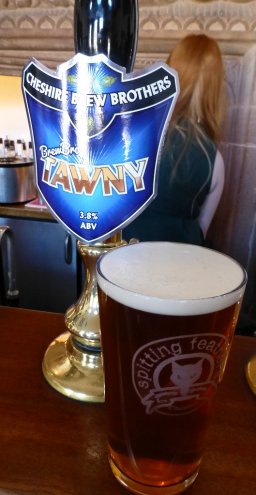 The Tap had seven cask ales and a perry on sale and I tried Cheshire Brew Brother's 3.8% bitter 'Tawny'. This was found to be rather light weight on flavour (compared with, say, its Weetwood equivalent) yet admirable and worth re-trying in future. I was greatly impressed with the Stourbridge-brewed 6% 'Portland Pale' from Green Duck brewery, whose deep, drawn-out bitterness harmonised wonderfully with robust hoppy, citrus overtones. Others were delighted with Mr. Whitehead's 5% 'Midnight Special Perry', Spitting Feathers' flagship 3.9% 'Thirstquencher' and Titanic's fruity 4.9% 'Plum Porter'.
Given that by 7.30pm, it had been a long, active and varied day for us on this longest day, it was time to head for the rail station for home. In all, we were blessed with fine, dry weather and some memorable pub experiences. Life doesn't get better!