Beer news from North Wessex Downs - by Alan Haslden
Saturday 16 August 2014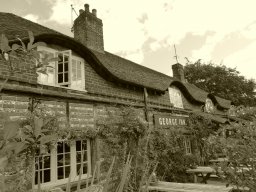 The North Wessex Downs was graced with brilliant blue skies and endless sunshine and it was across these Downs that three colleagues and I explored 20 miles of the nation's finest countryside and rural ale hostelries. Setting out from Great Bedwyn rail station after 9am, we followed footpaths and by-ways along a southbound bearing via Bedwyn Brail, Oxenwood village and Haydown Hill, reaching Vernham Dean's George Inn by lunchtime.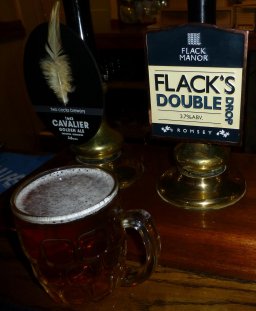 A beautiful, homely, traditional establishment with classic thatched roof, it is divided into a bar area, a lounge full horse racing posters and memorabilia, a formal dining area and a less formal dining area. We sat in the latter area and enjoyed our home-cooked meals comprising a whitebait dish, classic battered fish, chips and peas and home-made burger with chips. While the meals were superbly cooked and well-prepared, the portions could have been a touch more generous.
Most importantly, though, three local ales were on tap: Two Cocks' 3.7% '1643 Cavalier Ale', Flack Manor's 3.8% 'Double Drop' and Hopback's 'Crop Circle'. Two of us chose the easy, golden, gently-hopped Cavalier Ale while the others opted for the Double Drop. Both ales were in great condition, but we thought the nutty, maltier Double Drop had a fuller flavour than the Cavalier Ale. Being affiliated with the Greene King empire, the George also offered the (non-local) 5% 'Abbot' on hand-pump too.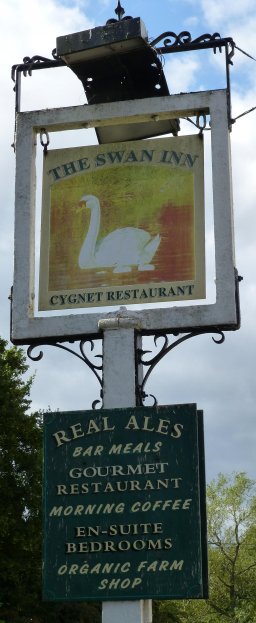 Bearings were set to the north on departure from the George, and after passing the Berks-Hants-Wilts meeting point (marked by an unassuming muddy pond!), we met up with the way-marked Test Valley Way, which guided us over secluded yet hilly, wooded terrain to Inkpen Hill. At nearly 300m high, this is Berkshire at its loftiest and it presents stunning views of the Lambourn Downs and beyond.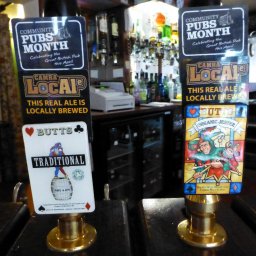 Following the steep descent to Inkpen village, we made it to the Swan Inn by mid-afternoon, where, aside from one venerable regular, we were the sole customers. Two local ales from Great Shefford's Butts Brewery were on: the 3.5% 'Organic Jester', which possesses a wonderful, slow-build bitterness, and the tawny-coloured, well-rounded 4% 'Traditional'. These we enjoyed whilst hearing entertaining anecdotes from our venerable regular on topics ranging from his beloved Celtic football team to livestock challenges down on the local farm.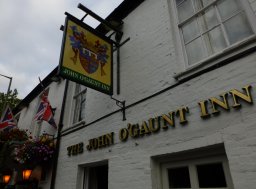 Hungerford was an easy trundle from Inkpen through meadows and woodland and we reached the town's John O 'Gaunt by about 6.30pm. The ales sampled this time were Eton and Windsor's pale coloured 3.2% 'Parklife' from East Berkshire, Milk Brewery's fruity 4% 'Funky Monkey' from Wiltshire and the aptly-named 3.9% 'Smoke Bomb', a dark ale from Northumberland's Anarchy Brewery. All agreed that the ales were in excellent condition.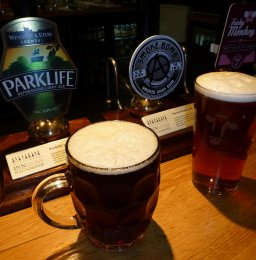 To keep us going for our home-bound train journey we ordered light dishes such as bowls of hand-cut chips and a selection of salami and local cheese; one of us even went for a full fish and chips meal, which is served in hefty portions at the John O'Gaunt. The two other ales available were locals from Two Cocks and Hopback, but unluckily for us, Vale's 'Black Swan' - a delicious dark mild from Buckinghamshire - had just emptied. And to compound our heartache, its successor, the deeply luxurious 'Kitty Wilkinson's Chocolate and Vanilla Stout' from Merseyside's Liverpool Organic brewery, couldn't be served soon enough despite the staff's best efforts. Alas we had a train to catch!
Overall it was memorable and rewarding day out and all aforementioned ales and pubs are highly recommended.