2014 Cheshire Beer Festival
Friday 14 November 2014
Champion Beer of Cheshire
Halton CAMRA Branch were well represented in the judging panel of the 2014 Champion Beer of Cheshire at the Cheshire Beer Festival held at Chester Race Course. Gary Sleigh chaired the first round "Bitters and Golden" beers and Kevin Johnson chaired the "Milds and Best Bitters" judging panels.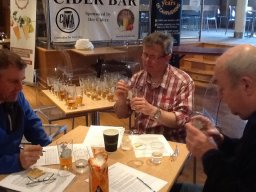 The panels of 3 to 4 people were faced with the "chore" of blind tasting 9-10 beers, each judged (1 to 10) on appearance, aroma, taste and aftertaste, against their "style" classifications. In all there were 39 candidate beers. On the panels chaired by Gary and Kevin, one mild (Gunpowder Mild), one best bitter (Weetwood ) and two golden ales (Red Willow & Pied Bull) were put through to the next round.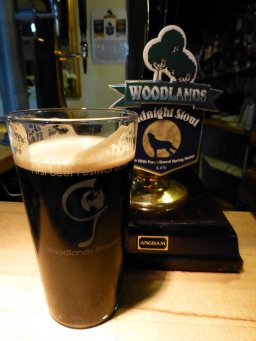 Kevin was also a member of the finalist panel; Woodland's Midnight Stout was judged to be Champion Beer of Cheshire 2014 with Beartown's Wojtek runner up and Coach House's Gun Powder Mild coming third.
Halton branch lends a hand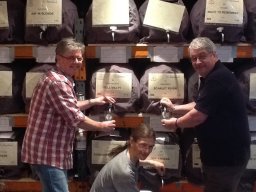 The branch was also represented on the Friday by Alan Haselden helping out in any way necessary. Gary also kept himself busy on the cider bar with Linda Linda Harris (Regional Cider rep - Wirral Branch). Kevin worked both days doing various roles, the most enjoyable being helping visitors find beers which matched their preferences.
From Alan:"Halton branch CAMRA members volunteered their skills, time and effort to help make the inaugural Cheshire Beer Festival held at the Chester's race course on 14-15 November a glowing success. Organised by the Chester and South Clwyd branch in conjunction with other Cheshire branches, over 100 cask ales and some 20 still ciders and perrys were sourced from breweries located as far south as the West Country to as way up north as Orkney as well as some new interesting ones to have emerged from the capital.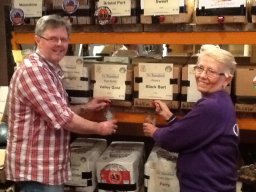 And of course, most Cheshire breweries contributed at least one cask: from Halton there was 4T's 3.7% 'Keep Calm' and Norton's 4% 'Priory Ale'. A broad spectrum of ale types and strengths were available and festival goers were entertained by live music ranging from blues, folk and rock to a Welsh 'a cappella' choir. For the volunteers, it was busy yet rewarding two days yet I'm sure the festival goers had a terrifc time. Let's look forward to a second Cheshire Beer Festival in 2015!"



The festival had available 102 cask beers, plus cider and European beers. A number of familiar Halton faces were seen on the Friday evening session.