Branch meeting Aug 2014 - Royal Oak Weston
Tuesday 19 August 2014
Resurgence of real ale at the Royal Oak Weston Village
The branch meet at the Royal Oak on Tuesday 19th August 2014, this being the branch's first meeting here in recent times. The Royal Oak was taken over by Kevin Morris early in 2014; the pub had been dry of real ale for a number of years. He introduced real ale in March 2014, offering brews from Coach House and the 'house' selections from Coors.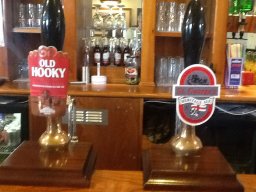 Five months later (August 2014) the pub is moving three to four firkins a week and converting larger drinkers to the real thing. Coach House's "St George" (£2.70) is very popular with the regulars, particularly the larger converts! Also available this evening was Hook Norton's "Old Hooky" (£2.70). Both were in fine condition.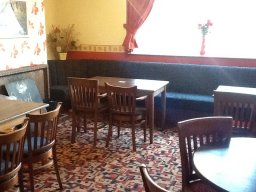 In July Kevin provided the outside beer service (3 hand pulls) for the village fete. This is the first time the village fete has had real ale available - three firkins were sold in about eight hours. Such resurgence of real ale in a largely keg landscape is really good news and CAMRA members are urged to support this pub in its endeavours to bring a better product to our local pubs. Please remember to score your beer consumption via the What?ub link on the left.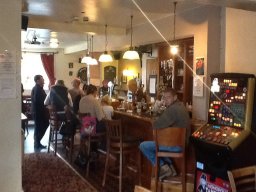 The pub consists of a traditional snug with a darts board and large (drop down) TV screen, a lounge connected by a central bar. Second Saturday of the month has live music and last Saturday of the month is karaoke night - all welcome! It does not offer food (at the moment) rather it aims to be a traditional-warm-welcoming "drinking pub". The welcome tonight was most certainly warm from Kevin and the locals alike and the beer was better than that found in some pubs with longer pedigrees of serving real ale. We wish the Royal Oak well!
Membership
The branch membership is approaching 200 - there will be a special certificate for the 200th branch member, a gift of some sort from the branch and some form of CAMRA branch publicity. So do encourage new members to join!