Big Berkshire Ale Hike - by Alan Haselden
Saturday 30 November 2013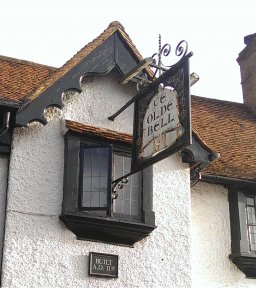 On the last Saturday of November, a team of four work colleagues and I completed another of our "Big Berkshire Ale Hikes". This time it was a 15-mile route connecting Wargrave and Cookham rail stations via meadows, quiet woods and river paths. Setting off from Wargrave at 9am we ascended the tree-covered gentle slopes of Bowsey Hill and Ashley Hill in golden Autumn splendour before heading down the Thames Valley to Hurley village. At 11.30am we found Hurey's Rising Sun closed, but neighbouring historic Ye Olde Bell Hotel warmly welcomed us into the bar lounge and serve us a terrific round of Rebellion's 'IPA', which was on good form and a great starter to what was to come.
Onward along the Thames path, an excursion into Buckinghamshire took us onto Marlow's The Ship, which is a friendly, convivial locals' pub equipped with TV screens beaming sports channels. For lunch we ordered delicious home-cooked pizzas and enjoyed a couple of rounds of Rebellion's 'Smuggler' and 'Roasted Nuts', each on terrific form; the latter having the edge for me for being fairly low in hop content yet stronger on the malt flavours.
A fair jaunt followed once we crossed Marlow's famous bridge back into Royal Berkshire: Quarry Hill and Winter Hill north of Cookham Dean, and then a hillside descent to the Thames Path, eventually reaching The Bounty, a pub listed in CAMRA's current Good Pub Guide.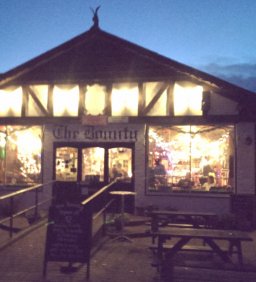 It's a hospitable idiosyncratic and perhaps non-traditional pub whose walls are replete with hodgepodge memorabilia, humorous nick-knacks and various flags of the world. It welcomes dog-owners and there were many in there, each with their well-behaved pets. Most importantly we ordered a round of Rebellion's 'Mutiny', which was refreshing and well-earned. The other ales served at The Bounty were Rebellion's 'Smuggler' and a guest ale. After the Bounty, it was a short walk in the twilight dusk to Cookham station for the onward rail journey home. Overall, we got to explore some fine countryside in East Berkshire and South Buckinghamshire and were privileged to have experienced several different ales from the admirable Marlow brewery in good form in three different cask ale pubs.