Beer news from Wiltshire and Berkshire - by Alan Haselden
Saturday 22 February 2014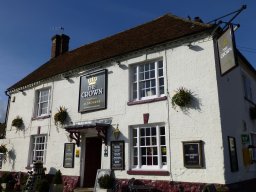 Saturday 22 February saw five colleagues and I complete an 18-mile cross-country hike connecting Bedwyn and Hungerford rail stations via the picturesque village of Aldbourne. Starting out after 9AM we headed northbound following quiet lanes, footpaths and by-ways over the expansive rolling downs of northeast Wiltshire reaching Albourne's Crown at 12.30PM.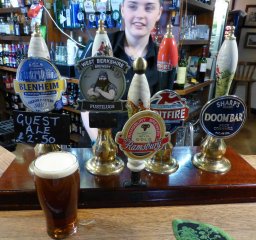 Three terrific local ales from Berkshire, Oxfordshire and Wiltshire and the two big-name fixtures of Spitfire and Doombar awaited us. An extensive menu and specials list of home-cooked, inexpensive meals spoiled us yet each went for The Crown's proper "ceiling, floor, walls" pie of the day, this time slow-cooked, tender steak with stilton, and served with boiled potatoes, beef gravy and butter-drenched mixed vegetables.
A couple of colleagues and I enjoyed our lunch with West Berkshire's 4.1% 'Fustilugs', a limited-run malty brown ale with delicate hints of treacle, while the others opted for Ramsbury's vibrant, summery 4.5% 'Gold'. The culinary experience was so marvellous that our normally garrulous group was stunned into silence as we eagerly tucked into our meals.
Furthermore, the low ceilings, log fires and traditional furnishings certify the Crown a mandatory destination for pub enthusiasts of all stripes - Dr. Who fans included; a Jon Pertwee episode was filmed in the village some 40 years ago.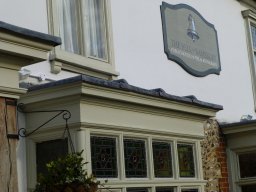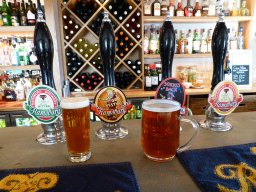 Pressing on with the walk southbound, we reached Ramsbury's smart, spartan Bell Hotel by mid-afternoon for a round of ales from the Ramsbury Brewery. 'Gold', the 3.6% 'Bitter' and 4.3% 'That Old Chestnut' were sampled, the 'Bitter' being my favourite for its rare smoked, sour flavour suggesting, in my opinion, worn leather! Another colleague suggested traces of elderflower in there too. Nonetheless, all ales were in terrific form.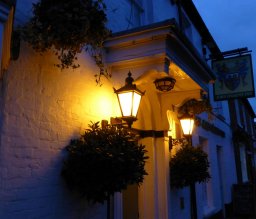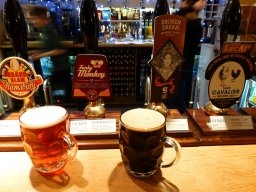 The remainder of the hike continued eastwards toward Hungerford along the south bank of the swollen River Kennet, taking in the historic foundation remains of a Roman Villa on the Littlecote Hall estate. We made it to Hungerford's leading pub, the John O'Guant Inn, by 5PM. Owing to recent refurbishment, this is another tidy and spartan establishment and some have argued that it's lost some its former character. From the six cask ales, Siren's 6.5% 'Broken Dream Breakfast Stout' was dry and robust and thoroughly satisfying; colleagues expressed similar satisfaction with Rambury's 4.4% 'Grand Slam', Milk Brewery's 4% 'Funky Monkey' and Two Cock's 3.8% '1643 Cavalier Golden Ale'.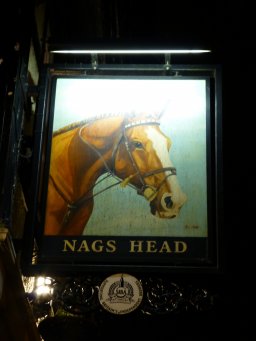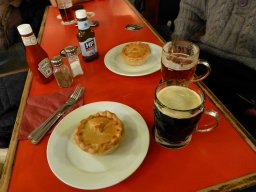 Most of us parted company for home after Hungerford rail station, but my colleague Nick and I, each requiring a change at Reading, called in at the city's famous Nag's Head, where 12 cask ales of every type and up to 14 still ciders are always served. Mainly a drinkers' pub, the Nag's Head don't serve meals as such, except for John Thorner's proper pies (and a Sundays-only carvery).
Nick and I opted for a chicken and mushroom pie each to go with our pints of Tillingbourne's 4.8% 'Hop Troll IPA' and Bingham's 5% 'Bricks and Mortar Porter', which served as a magnificent finishing touch to a rewarding and memorable day out.

Hope to see you somewhere soon,
Best regards, Alan.