CAMRA pub of 2013 visit - by Alan Haselden
Friday 14 February 2014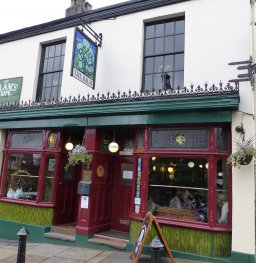 I visited CAMRA's UK pub of 2013 last Saturday: Rochdale's Baum, tucked away on the edge of the shopping precinct. First impression: open-plan-like with partial divisions; four areas, one being the stand-only bar area, the others being seated with tables.
The fairly low light levels and absence of TV and games machines is great in my opinion. It's a pub for quiet conversation. Walls are covered with antique advertising posters and signage (paint on tin) such as Colman's Starch, Havana cigars and Drink Vimto.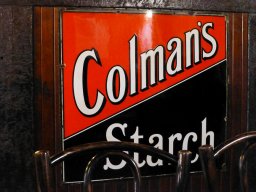 There's even a classic Singer sewing machine on display. Thus they've chosen the atmosphere to reflect something of the mid-20th century or slightly earlier.
Food menu looks good: most main meals were £10 and under. I had red pepper and coriander soup with a whole baguette. It was generous portion and cost about £4.
The ale selection comprised seven casks (four local) and a still cider. I tried four half pints each of Irwell Works Brewery's 'Steam Plate Best Bitter', Pictish Brewing Company's 'Claymore', Hornbeam's 'Winter IPA' and a Black IPA under the name 'Revisionist' from the Marston's empire.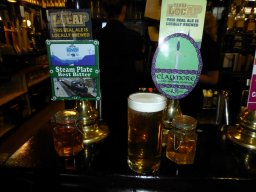 With the exception of the below average Claymore, the ales I tried were just about good though NOT deserving a score above three in my opinion.
The staff were helpful and locals were easy and approachable. The CAMRA award is understandable because it looks like a lot of thought and work has been put in and it does tick many boxes regarding what characterises an all-round good pub.
In summary then, Rochdale's Baum is worth a visit _IF_ you happen to be in that town. However, if you are in the Manchester city centre then it's much better to remain there and visit the superior Marble Arch or The Knott, which serve a better range of ales and have better interiors.
Regards, Alan Haselden.